Princess Beatrix was once again cozy on Saturday afternoon in The Hague where she opened the second edition of the sculpture exhibition "Voorhout Monumental".
The exhibition "Voorhout Monumental" can be visited from 3 June to 12 August at the Lange Voorhout in The Hague.
Fans of the Royal Family and other interested parties had come in large numbers to the Voorhout to catch a glimpse of Princess Beatrix and especially to capture this special moment in the photo.
Princess Beatrix opened the open-air exhibition at the Lange Voorhout organized by Pulchri Studio, of which the princess is patroness.
Advertisement is being charged…
The Princess has recently stumbled and has been walking with a cane for a few days now. Still, she seemed to have little trouble walking and really enjoyed all the beautiful works of art.
Ad loading…
In total, more than twenty sculptures and installations can be seen in the Museum Quarter. In addition, there are a few statues in the Kloosterkerk and paintings, sculptures and video works are shown at Pulchri Studio.
Ad loading…
After the opening, Princess Beatrix was given a tour of the works on the Lange Voorhout, in the Kloosterkerk and in the garden of Pulchri Studio. There, the Princess spoke with a number of artists who explained their work with their sculptures.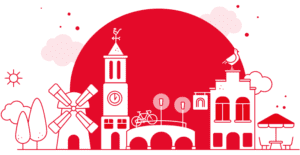 Stay informed
Sign up for the newsletter of indebuurt Den Haag and stay informed of everything about and around The Hague.