Very modern homes have been built at the Zodiakplein on the Binckhorst. They are small, but you have something special. For example, this house costs from 12 square meter 275.12 euro. So you pay 7.844 euros per square meter. What you get for that? Read on quickly:
In that 12 square meters is everything: a living room , dining room, kitchen, bathroom, sleeping area and storage space. You also have a lot of light through the high windows.
Loftbox
As soon as you enter you will see the so-called Loftbox. That is a concept where everything is used, such as the kitchen, bathroom and your bed. Downstairs is the kitchen block with the bathroom next to it and on top of that there is room for your bed. So you can look straight into your dining/living space from your bed.
View the photos here:
Funda
Read also…

Funda find: you have to have golden hands to turn this into a pearl

Do you still have a few tons lying around and enough time for a big project? Then we have a challenging job home…

Fundaparel: house from 857 with special stained glass windows

Funda Pearl: a pink family house with a lovely old fashioned interior

Funda pearl with its own golf course in the conservatory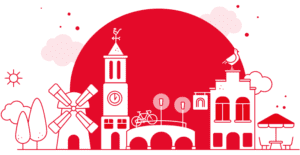 Stay informed
Sign up for the newsletter of indebuurt The Hague and stay informed of everything about and around The Hague.
42099952