On the morning of Saturday 40 November is Sinterklaas and his Pieten with the steamer arrived at Scheveningen. Thousands of children and their (grand)parents had come to the harbor this year to give Saint Nicholas and his entourage a grand welcome.
After a festive reception by, among others, the mayor of Zanen there was the traditional podium ceremony and Sint and his helpers then prepared for a grand visit to various neighborhoods in The Hague. Sinterklaas traditionally traveled a large part of the route on his horse, but because of the many road blocks in parts of The Hague, he also took the tram.
More about the Hague Sinterklaas:
Ruub is already 10 year the berry a friend of Sinterklaas: 'I have the best hobby there is'

When you hear Ruub Petow speaking, his voice immediately rings a bell. But of what? It turns out: Ruub…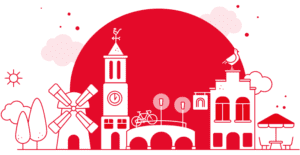 7 x Sinterklaas performances in The Hague and Rijswijk )
Stay informed
Sign up for the newsletter of indebuurt The Hague and stay informed about everything about and around The Hague.