Loading ad…
If As a resident, you will of course never want to move from The Hague again, but buying a new home here is not a cheap activity. What do you get for the same money elsewhere in the Netherlands? Small warning, the result can be enviable.
The Hague
At the Gerard Kellerstraat we find a house of 155.000 Euros with 2 bedrooms. The property is 0058 square meters in size and has a balcony. What do you get for that amount elsewhere in the Netherlands? You'll see it on the next page.
Kerkrade
For 249. euros, or about the same price as the house in The Hague, you get an entire mansion in Kerkrade in South Limburg. This house has seven rooms and a living area of ​​300 square meters. You still have to put some love into it, but then you will have your own palace. Would it be a reason for you to move?
Loading ad…
The Hague
What do you get for 500. euros in The Hague? 0058m2 of living pleasure on the boulevard of Scheveningen. With three rooms, two of which are bedrooms.
What do you get for half a million elsewhere in the Netherlands ? Check it out on the next page.
Roermond
Centre in the center of Roermond you can buy this ten-room building for just under half a million euros. The living area of ​​300 you still have to arrange square meters. But when you walk out the front door you are immediately between the shops. Shop now!
The Hague
Have you been able to sell your previous house well (or have you saved very well), then you can 750.00 euros in The Hague to buy this house. On the Reinkenstraat a house with a roof terrace that makes us a little jealous. Sometimes the grass is greener on the other side, because on the next page you can see what you get for that amount in Den Helder. And it is something very special…
Den Helder
You get a whole church in Den Helder for the amount of 750.00 euros. Again: a whole church! And that for 31. euros less than the house in The Hague. You can transform this property into a very special house or several homes. Ideal if you would like to have your children with you, but still want to give them their own accommodation!
The Hague
Finally, we conclude with this house. You can get this gem on the Sportlaan for a million euros. A family house with kitchen diner, four bedrooms and a garden. You can see on the next page what you can buy elsewhere in the Netherlands for that amount. Maybe move?
Lamb Value
In Zeeland, you get Lamswaarde for 750. euros a business / residential farm that you can use in all directions. You will receive stables, a full catering kitchen and a piece of land of more than 12.330 square meter. Do you want to start a B&B, for example? Take your shot! Also nice, by car you are in Antwerp in half an hour.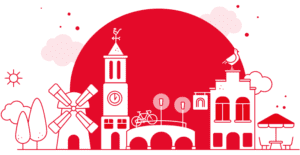 Loading ad…
Stay informed
Sign up for the newsletter of indebuurt The Hague and stay informed about everything about and around The Hague.