Photographer, mother & co-owner of a beer brewery. We visit Louise Boonstoppel and talk about entrepreneurship, photography and beers.
Loading ad…
Beautiful photos of young families jumping through the dunes, baby feet to eat and weddings that the bride-to-be dreams of. We scroll through the Instagram page of Louise Boonstoppel. Here and there a photo of Louise herself, sometimes with daughter, sometimes with her own beer. From photos to dream away to to Stories full of humor and self-mockery, more than 6.0000 people follow the life of this Hague photographer, mother & co-owner of

het The Hague beer Eiber

.
To The Hague Height
A message later and we go
The Hague High within. Where Louise not only has an office, but also, together with friend Jasper, brews beer in the highest brewery in the Netherlands.
It is cold, wet and gray outside, but inside at Haags Hoog there is nothing to notice. It is pleasantly busy, the sound of the brewing kettles and coffee bean grinder echoes through the second highest floor of the building. We meet Louise at the top of the greenhouse, where it is a little quieter, but certainly no less beautiful. With a view over The Hague, we speak of entrepreneurship.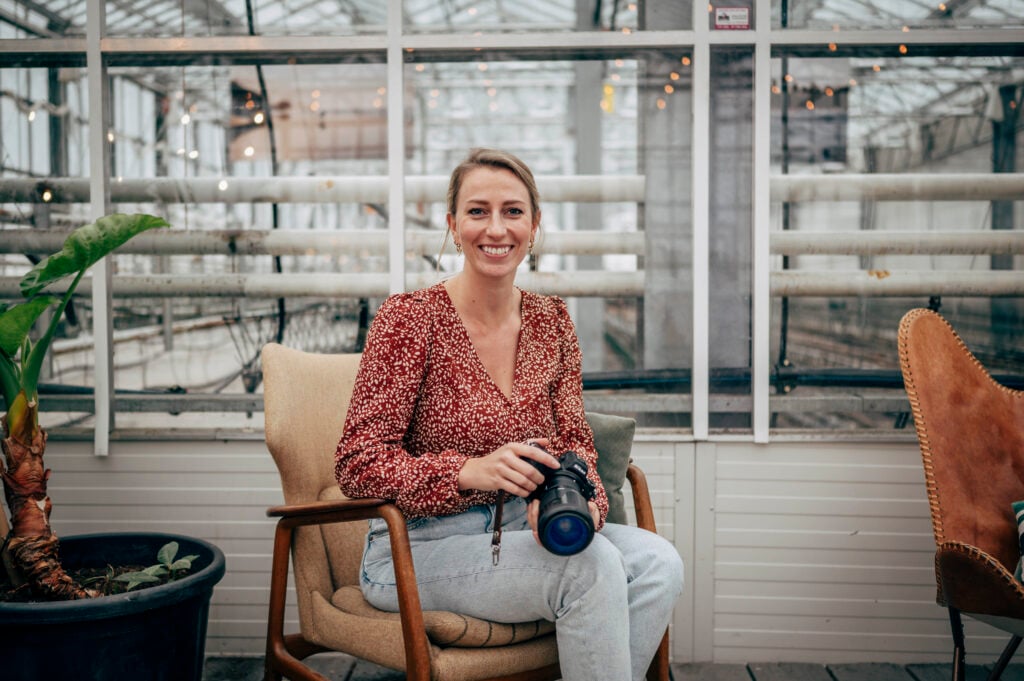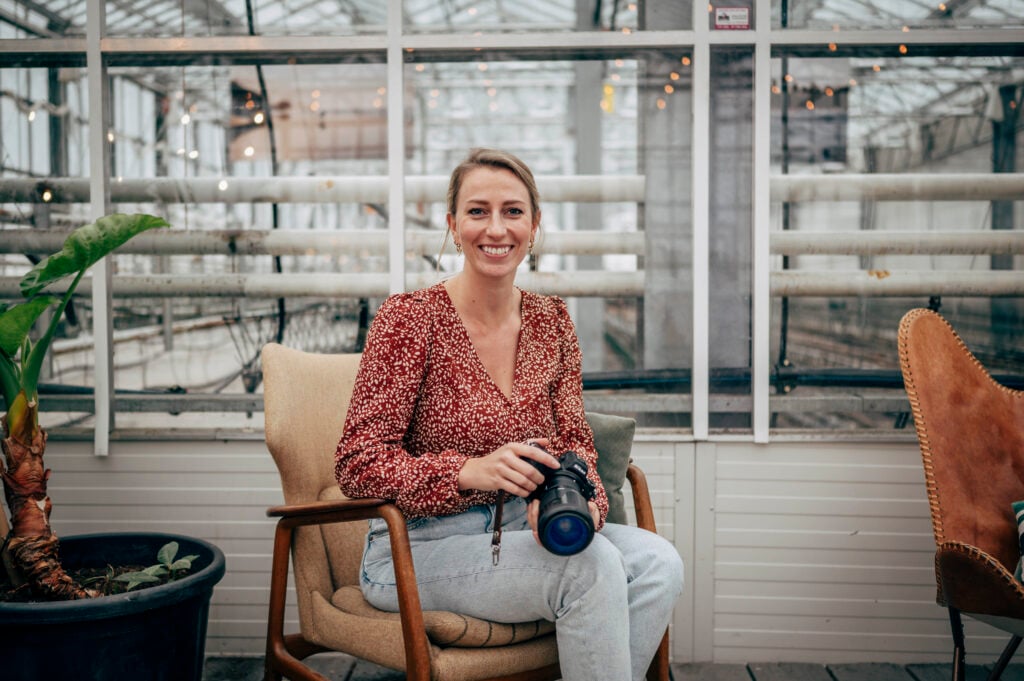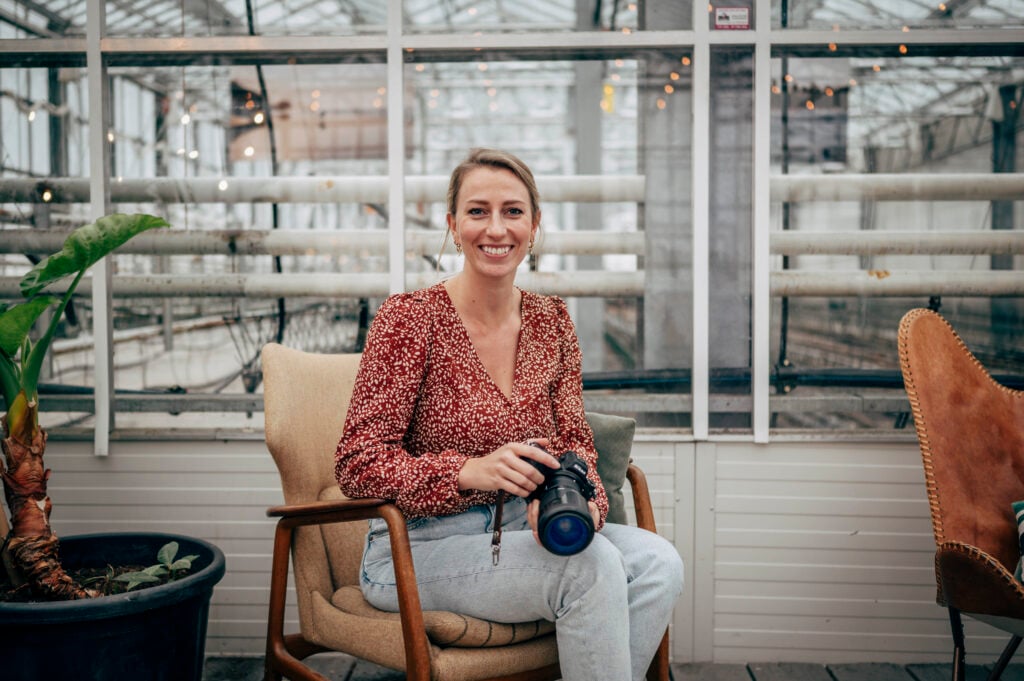 Photo: Milene van Arendonk / Indebuurt
Who is Louise Boonstoppel?
Louise has lived in The Hague all her life and loves this city, with the beach as her ultimate favorite place. She lives here with her boyfriend Jasper and daughter Suze. "Being with our daughter is wonderful. And in the summer on the beach or on the terrace with a beer or coffee – depending on the time of course – you can enjoy it completely!".
Loading ad…
From criminologist to bridal & lifestyle photographer
Besides enjoying, Louise works hard and a lot. She graduated as a criminologist and, after her master's degree, worked in the legal department of Victim Support Netherlands. "I have been interested in being creative all my life. Because I had a VWO diploma, I thought a university education was a logical next step". Still, Louise kept being creative and when she finally picked up the camera she knew 'this is it!'
"I noticed that this gave me so much energy and so I quit my job and I went for my dream". Louise photographs weddings and pregnancies, babies and young families. She loves the non-standard weddings and likes to do this in a natural and lifestyle way. "I notice that this branch of photography really suits me, because I really want to capture memories for my customers and because of this I can also photograph some customers more often, I am a kind of 'home photographer' for some".
The best thing about her job, Louise thinks, is that she captures memories that only become more valuable over time. On the other hand, as an entrepreneur she is always 'on' and the balance between work and private life is sometimes difficult.
Photo: Milene van Arendonk / Near
A beer brewing photographer
This time Louise is not behind but in front of the camera. Now that the light is still good, we shoot a few pictures. In addition, we are talking about the beer brand that she has with her boyfriend. Jasper, her boyfriend, is the owner of the beer brand Eiber. "I always think along about the image of our company, the names of the beers, the design, texts and of course I take the photos".
While Jasper is busy in the brewery below us, we are now tapping a Hofblond from Eiber. "I take care of the marketing of our beer brand, I also maintain the website and our Instagram page. We share an office together at the brewery so I am sufficiently involved in the process and here we also occasionally have a nice brainstorm about new beers or cool collaborations". Keep all the balls up, or not?
The Hofblond tastes very good on this somewhat dark Friday afternoon. Entrepreneurship and motherhood, that asks what of a person, how does she do it? "I sometimes ask myself that too. Well, you just do it and sometimes you don't. Keeping the balls up all the time just doesn't work, so I'm learning to accept that more and more". Sending an email later, being flexible and communicating well with each other is key, Louise tells us. "By the way, Sunday is sacred and we really want to keep it free for the family. Of course we are both entrepreneurs and therefore work a lot, but of course our daughter comes first".
The other visitors to Haags Hoog (open every Friday until 12: 000 hour) exchanged the coffee for beer. We chat a bit off-the-record and while enjoying a delicious Eiber beer, we continue with a beautiful view over the city.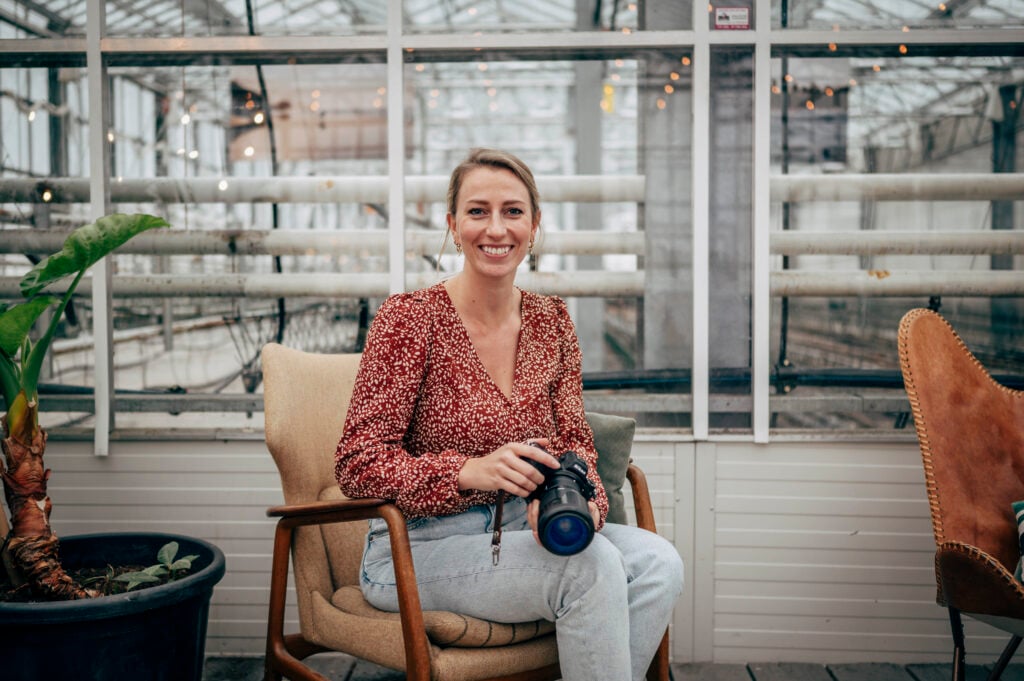 Read also…